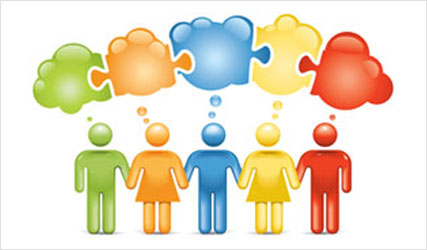 Impact, depth, and revenue. All are clearly potential benefits of collaboration in journalism. Tuesday on the Journalism Accelerator / CollabSpace conversation on collaboration and revenue we dug into how, when and why to collaborate. Michael Stoll of San Francisco Public Press and Trevor Aaronson of the Florida Center for Investigative Reporting shared their stories about various joint journalism efforts they've been part of. Some increased revenue, some didn't aim to, some were "cost-positive" in the words of Michael Stoll. It's an in-depth conversation within the still-continuing larger discussion, on how collaboration could increase revenue in journalism. Check back this Thursday, April 26, at 11 AM Pacific for the next live conversation of this forum series.
Trevor summed it up right off the bat. "We all want to do better journalism, and collaboration is a great way to increase the quality and distribution of our reporting," he said. "But FCIR is a business, and we view collaboration as a business relationship."
So what does that mean on a practical level? For starters, he says, ask yourself how your organization would benefit from a potential collaboration. Both Michael and Trevor have leveraged working with other news organizations to win grants and to gain audience. Michael in particular points to the cost-saving opportunities of bringing the skills of reporters from multiple organizations together to cover one major story. Even though, as many reporters and publishers know, collaborations can mean a lot more work.
As Tuesday's live conversation and the entire thread reveals, the question of collaboration leading to revenue is complicated by the fact that journalism is often mission driven. But Trevor points to projects taking collaboration large scale, and Michael Stoll calls on public broadcasting to expand its own coverage by collaborating with local news startups. He also suggests that trading skills and content benefits all partners in many situations, but well funded collaboration partners can – perhaps should – help others "keep the lights on".
Please join the JA on Thursday, April 26th at 11 AM Pacific, when I'll be online for another 30 minute live conversation about collaboration and revenue with Keith Hammonds. Keith currently directs Ashoka's News & Knowledge Initiative. He's the former executive editor of Fast Company. He'll share insights based on both his past experience at the helm of a for-profit magazine and his current work supporting collaborative news and information projects that contribute to social good..